You have to choose the right mold manufacturer from the beginning
For any plastic injection molding project, the mold building is the most expensive and time-consuming part of it. It does not allow you to try and see. This means you must choose the right mold manufacturer from the beginning, otherwise, it will be too costly to change suppliers later.
(If you want to save time, you can just skip to the second part of this post, which is about explaining how to evaluate plastic mold makers.)
What questions you may have if you want to search from China?
There is a compelling reason for anyone who wants to set China as the destination, since the prices there can be drastically lower, and nowadays China is capable of manufacturing molds from low to high-quality standards. At the same time, finding a reliable supplier from China could be a daunting task if one is not so familiar with China. However, if you know the right approach, this task is not as difficult as you imagine.
So how should you evaluate the Chinese mold makers and locate the right one? I have sometimes seen a long list of questions from the seemingly prepared customers that goes like:
What is your company size and number of employees?
Do you have own manufacturing processes or outsource them?
Do you have ISO9000 or other certificates?
Do you have a quality warranty and what does it cover?
What if your delivery is delayed?
Do we owe the molds as our property?
Do you have customers that I can ask for references?
Do you have experience with similar products and can you send the samples?
Or some more general questions:
What is your lead time?
What is your price term?
What does the shipping cost?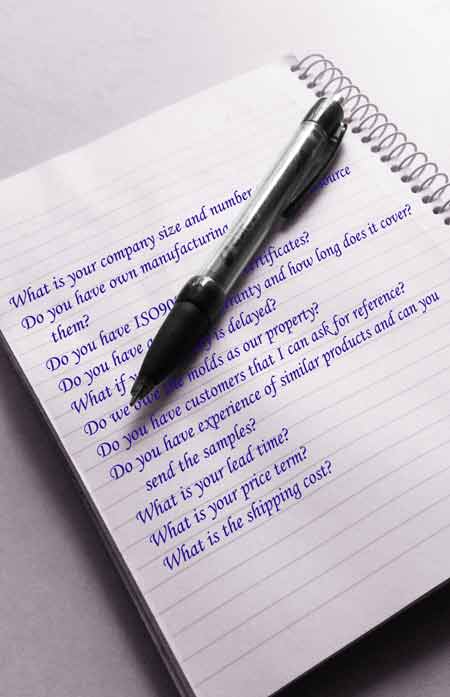 You should focus on the questions that really matter
There is nothing wrong with these questions, but some of them do not get to the key points. Meanwhile, you may not always get honest replies for all the questions, so why bother to ask? Besides, asking too many questions when you first contact a supplier may be a bit overwhelming, when they are still not sure whether you are serious about sending them the order, it is quite a distraction from their daily work. There are suppliers who have a strong sales team and deal with this kind of request regularly, and for sure there is an additional cost behind it.
The mold industry is highly collaborative and rarely any mold manufacturer can do everything under one roof
Before going into this topic, let's take a look at the molding industry in China and who the mold makers are like.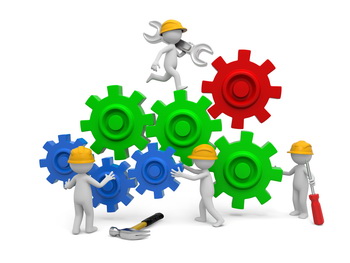 In China, the molding industry is highly collaborative, meaning every manufacturer is specializing in one niche (process), each manufacturing process can be done at different locations and then the molds are finally assembled and tested. These processes include:
Wire EDM, EDM;
CNC milling and turning;
Surface finishing.
Each process can be done at one location. Certainly, you do not need to worry about each process, you only contact the guy who is in charge of all processes and do the final assembly.
There are big companies that can do several processes in house, but in most cases, some processes (like heat treatment) still need to be outsourced. This pattern is good for lowering the cost because they are all being kept busy and focused. The downside of it is the possible poorer quality control and inadequate communication.
A small mold manufacturer can also be good
There are numerous amount of mold manufacturers in China, some are big with a lot of manufacturing capabilities, some are one-man shops who only do simple machining and final assembly in house. However, this is not very important, compared to other manufacturing, the personal knowledge and experience of the mold maker play a more important role in mold making.
As a result, I strongly recommend you build direct communication with the mold maker who is (or will be) in charge of your molds.
You need to contact a lot of mold manufacturers until you can find a good one
Like any other industry, there are poor mold makers and great mold makers, the former quite outnumber the latter. Mold making is considered kind of as a low job in China, it is related to hard labor, oily and greasy working environment, possible injuries. You can expect a lot of casualness, inaccuracy, sloppiness here.
As you may figure out now, finding a supplier is like a numbers game, you need to adopt a shotgun strategy, the more you contact, the better chance you have.
How do we judge if a mold manufacturer is good or not?
So, what are the good mold manufacturers or suitable for you?
First, you need to find a mold manufacturer that has shown true interest in your project. The ones who always respond to you quickly and provide you very detailed information and with great patience and courtesy. This will take some time to observe.
Second, since you are going to work with a supplier from far away, communication is of critical importance. This does not only include emails, phone communications, but also include to exchange your ideas by words, pictures and videos.
Third, the mold maker needs to be knowledgeable and detail-minded. He should know the key points to get your products done and meet your quality requirements.
With that all being said, it is time to discuss what are the most important things you need to take into account when selecting a good mold manufacturer.
6 most important things to consider while selecting a mold manufacturer in China
1. Do they include adequate information in their quote
I put this in the first place because you start off the communication by sending them an inquiry and receiving the quote. This is an easy and quick way of judging a supplier. 
A quote, formal or informal, should include the following basic information:
Number of cavities
Mold material
            These 2 factors have a direct impact on the mold cost.
            So you know when they will get the job done.
If they miss the basic information in their early quote, it is a sign of too much sloppiness in their daily work.
2. What is the right mold price?
You may find the mold prices from different suppliers vary a lot, should you trust the higher prices more?
To save time, you only want to spend time with the suppliers whose quotes fall into the right price range, but what is the appropriate price for your mold?
It may be a good idea to ask the mold makers to send the cost break down, so you can compare them and see if each item (material, machining, assembly and so forth) is correctly and reasonably priced.
It does make sense that both you and your suppliers to spend some time to work on this cost breakdown, this shows whether they are careful doing the calculations, and whether they are interested in your orders, because otherwise they may not want to spend the time.
These first 2 steps will help you to narrow down your search drastically, so you do not waist time with those that are apparently not eligible candidates. Now it is time to move further.
3. Do they ask "good" questions when you communicate further with them?
In early communication, there is no need to get too much into details, because they do not know how serious you are in placing them an order.
But after you move further and show some true interest in buying from them, they need to make clear the quality requirements of your plastic parts:
What are the key dimensions and tolerances?
What is the aesthetic requirement?
Or, these questions can be asked in another way:
What are your parts used for?
How does the part fit into its assembly?
What are the mating components in the assembly?
This gives an idea about aesthetic appearance and dimensional tolerance as well.
If a mold manufacturer starts making your mold without collecting this important information, it is like a blind shot, it is very likely the mold needs to be modified later to meet your quality requirements.
4. Can they tell what quality issues may arise with your kind of parts?
The mold maker needs to be knowledgeable and detail-minded.
Do they have the experience of producing similar products before, what problems have they encountered? It would be great if they could send you some pictures of similar samples.
Are they able to tell you what flaws or issues might arise concerning the production of your products? What preventive measures can be taken to minimize or eliminate them?
Can they advise you whether your current design is good for production or some changes need to be made?
However, this will not be necessary for simple and easy jobs.
5. Do they offer services like CAD designing, prototyping, mold flow analysis?
You need to find a mold maker with comprehensive knowledge. If he knows every process, then the better chance he has to do a good job.
Many times, if you are working on a new product, the chances are your designs need to be optimized for manufacturing (to avoid injection molding defects). The mold manufacturer should be able to deal with this kind of issue.
CAD designing can also be an outsourced process, so the mold maker only needs to instruct how to work on it.
Besides, mold flow analysis and rapid prototyping are also very helpful to streamline the mold making process, so it will be helpful to include these factors in evaluating your suppliers.
6. What equipment do they use to machine the mold parts?
There are high-end equipment and low-end equipment, the machining costs are different. For example, the normal CNC milling is about $5/hour, while the high-speed CNC milling may cost $20/hour.
What is the difference? The high-end machines can do the job more accurately, faster and get finer surface finish.
If a poor accuracy is made with the mold parts, then the mold maker will do more manual work to fix them, namely, grinding as the deductive process and welding as the additive process. This will result in a poor uniformity and precision in the mold geometry, as a result, the parts produced by this mold may look a bit ugly (hand polishing can not attain the same accuracy as machines), and the mold can have a shorter mold life.
You need to verify with the mold maker what machines they will use. You do not need to use the most expensive machines, but you need the machines with adequate accuracy.
This gets a bit tricky sometimes because some mold makers do not tell you the truth. Anyway, you make your expectations clear to the mold maker is always better than not.
Have a right expectation for a Chiese mold maker
There are a lot of things to be considered while selecting a new mold manufacturer, but what I have mentioned above are the most important factors for your evaluation. I certainly do not ask you to find a mold manufacturer that can pass all the above evaluations, since you have to live in the real world, nobody is 100% perfect. You just need to go through the above evaluation processes and get a good idea of what the mold manufacturers are like.
This whole process may seem a bit complicated but it will be proven to be well worth your time and effort from the beginning, because a good mold manufacturer will make your life much easier later on.
I hope this article helps anyone who is in search of a Chinese mold manufacturer. If you have any questions or comments, please contact us, we would be happy to reply.