This is a smartly designed power tool housing. Commonly powder tool housing consists of 2 halves that match together and they are different designs. However, this housing is a bit large. In order to save costs, the 2 halves of this housing are exactly the same, so we only need one injection mold (with one cavity) to make them.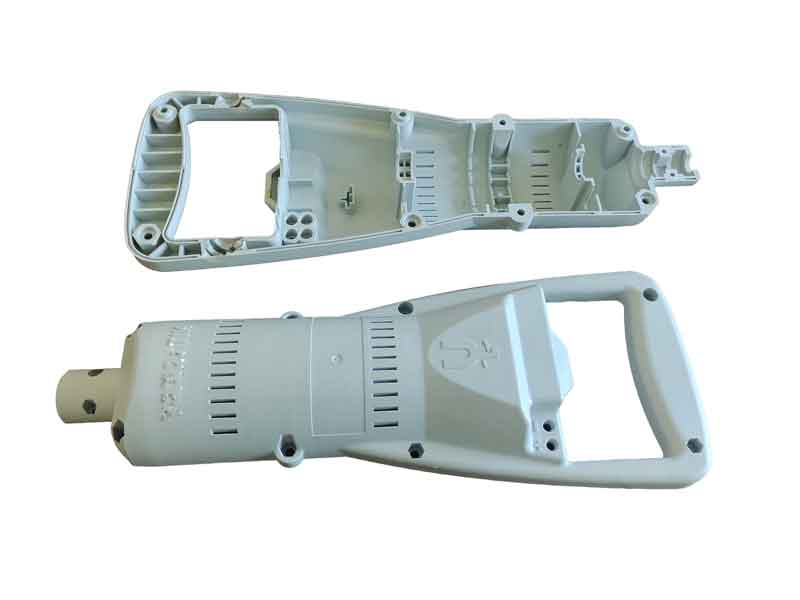 Information about the part and the mold:
| | |
| --- | --- |
| Material | PA6 GF 3o |
| Dimensions | 350*135*40mm |
| Net weight | 230 gram |
| Mold cavity number | 1 cavity |
| Mold steel | 718H |
| Runner type | hot runners, submarine gate |
Critical features:
Gate design;
Control of part bending;
Tight tolerance.
Gate design:
Because of the large size of the product, designing a gate in the middle of the product will have a higher filling efficiency.
Also, because the handle part is a ring shape with a hollow center, and is far away from the first gate in the center. When there is only one gate in the center, it is more likely to have a weld line formed at the position shown below.
Therefore, it is necessary to design a gate in the handle part as well. Meanwhile, the additional gate here can also reduce the warpage at this end. Because it is far from the center of the product (the inlet of the mold), a hot runner design is used.
The handle part cannot have a gate scar, otherwise, it will be uncomfortable for hand-holding. Therefore, a submarine gate design is used here.
From the final product, the design purpose was achieved, there are no noticeable weld lines.
Control of part bending:
For a product with this structure, the injection molded parts will inevitably have a certain amount of bending. This bending will cause gaps on the 2 ends.
By increasing the injection pressure and packing time, the bending can be reduced. However, when 2 parts are placed together, there is still a gap of about 1 mm on both ends.
The screws are designed to be in the right position. After the screws are tightened, the gap is almost gone.
Tight tolerance
Since bearings and the rotor are installed inside, this housing requires tight tolerance for some key features (the Inner Diameter and concentricity).